We're excited to announce that Robin Henrichsen is the new Director of ReStore Operations for Twin Cities Habitat for Humanity! Robin will lead the strategy, business development, and operations for the ReStore Home Improvement Outlets located in the Twin Cities metro area.

Welcome Robin!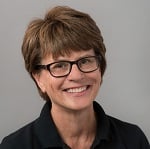 "I'm excited for the opportunity to lead the ReStore team," says Robin. "At ReStore when you shop, donate, or volunteer—it matters. You are supporting Habitat's mission and helping the earth by keeping items out of the waste stream every day."
"Robin brings valuable management and strong leadership experiences from the retail and non-profit sectors," says Joe Khawaja, Chief Financial Officer at Twin Cities Habitat for Humanity. "Robin is an outstanding leader and her commitment to Habitat's mission, donors, customers, and volunteers is highly respected."
Robin has been with the Twin Cities ReStore team since 2016 as the Donations Manager so she brings a deep understanding of ReStore and Twin Cities Habitat. In her new role, she'll lead donor development, sales, growth planning, and retail management operations for ReStore.
Before joining Habitat, Robin spent 28 years with Target learning about retail, merchandise presentation and management. She completed the Minnesota School of Business management program, mini-MBA for Non-Profit Organizations, and holds a Project Management Professional Certification.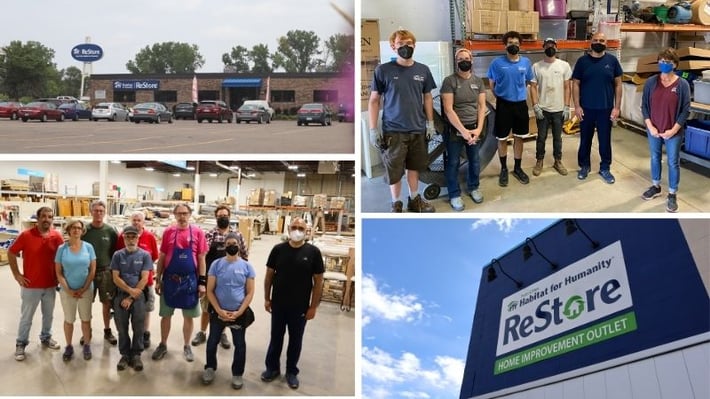 Most of the staff at each ReStore outlet
Women Leaders
ReStore also recently promoted two other women leaders—Jill Carmody is now Senior ReStore Manager and Jan Hagerman is now ReStore Manager. Jill has worked with ReStore outlets for seven years and was instrumental in growing the store operations and revenue. Jan has been with ReStore for six years, primarily at the New Brighton location and played a key role in the New Brighton store's expansion and remodel. You may have seen Jan as a regular guest on WCCO Morning Show's DIY Friday segment.
Amazing facts about ReStore
In the most recent fiscal year (July 1, 2020 to June 30, 2021):
Twin Cities ReStore Outlets received 22,000 donations, a 39% increase over the previous year.

More than 65,000 customers shopped at the two stores in the last fiscal year.

The two outlets kept more than three million pounds of new and used items out of landfills this year (for a total of 11 million pounds over the past five years). This includes leftover building materials from construction and demolition, some of the biggest contributors to landfill waste.

ReStore trucks broke records this year, totaling 4,800 donation pick-ups.