If you're considering downsizing your home or you're already in the process, we've provided some tips to help you pare down your belongings to fit your new home and lifestyle. Tip number one, start early!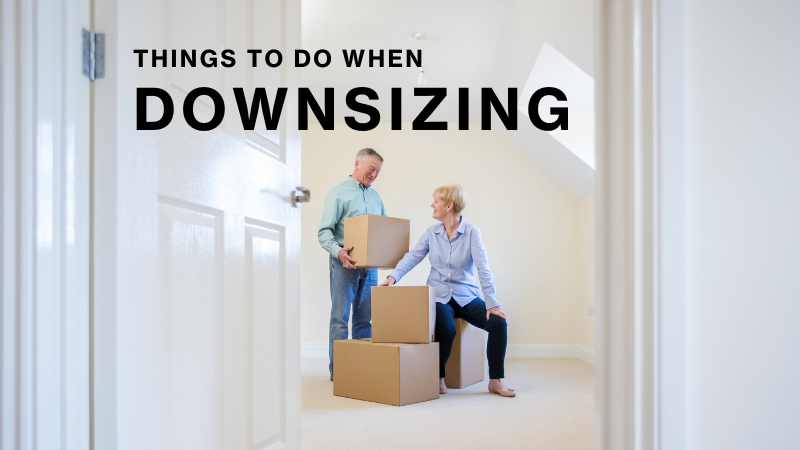 It can seem like a daunting task to whittle down a lifetime of belongings, so starting the process early is helpful, but not required. Here are some tips to help you get started.
Understand your new space and lifestyle when you downsize
It's important to visualize, and sometimes physically measure, your new downsized home. Instead of thinking about "will it fit," think about "do I need it?" Will you really need all those tools in your garage? Or what about those small kitchen appliances tucked into corners of your kitchen?
Focus on what you really need and want, then tackle one room at a time. Start by creating categories or piles that will help you sort. We recommend these categories:
Trash - This can be obvious, but if an item can't be included in the rest of the pile categories below, it's likely reached the end of the line. Toss it!

Recycle - Papers, magazines, plastics, metals, and batteries. Find a suitable disposal method for the various recyclable materials you may have.

Keep - This is where most of your time may be spent. You'll need to make hard decisions of what to keep in your new space. Think about your new lifestyle and what that means. Do you need multiple sets of furniture in your smaller home? What about a closet full of winter gear? If you are moving to a new climate, think of seasonal items you no longer need.

Sentimental - As you sort through belongings, you'll inevitably run into many things that bring you joy. Keep these precious items together to consolidate or to pass on to a loved one. If you have something of sentimental value, you may want to invite friends or family to see if they might be interested in receiving something that reminds them of you. Photos, furniture, tools, or even recipe cards and cookbooks. Pass it on or pay it forward!

Donate - This can include many things, but this can be items with value that you just don't need anymore. Clothing, furniture, tools, kitchenware, home goods, building materials, and whatever else you have in storage or a garage. One way to check if you should donate something is if you have a duplicate. If you have two of anything, you're likely able to give the extra away to someone you know. Call relatives and ask if they need a particular item. You can bring items to thrift stores that support a cause, or if it's items that ReStore accepts, you can schedule a free pickup.
ReStore Advice:
"Downsizing is hard as many of your belongings have sentimental value. When you donate an item, you are giving another family an opportunity to create memories with the item you no longer need," says ReStore Director, Robin Henrichsen.

"Make sure to give yourself enough time to remove everything before your closing date. If you request a donation pickup from ReStore for large items that can't fit into your car, plan for 3 or more weeks. We're unable to enter your home for pickups, so you may need to hire a mover or find friends or relatives that can bring items to the garage or driveway."
Be prepared to go through items multiple times, then let others help
Downsizing is a big job, so plan on going through rooms and piles more than once. Once you've gone through each room and have designated piles, here are some things you can do to get rid of your piles or items.
Host a BBQ or have a pizza party - Invite friends, family, and neighbors to come over for lunch and then let them "shop" for items or furniture you no longer want or need. You can of course sell items, but free is an amazing motivator to get them out quickly! Plus, a party will have multiple people that can help move big or heavy items.

The friend with a truck - We don't all have pickup trucks, so pay a friend or family member who has one to help haul items away in batches. Now that you're mostly organized, moving items in categories just got easier. Make a trip to a thrift store to donate, or haul bigger items you've given to others. It's like being Santa, but better!

Focus on the positives and let others help - Any big decision, like downsizing or moving, is difficult, so try to focus on the positives and what you are looking forward to the most. When it seems too difficult or you feel down, ask for help. You may be surprised how willing someone might be to help you tackle a challenge or help you along the way.