When it came time for our ReStores to host the Upcycle Challenge back in April, ReStore Sale Associate, Mark, jumped at the opportunity. For the challenge, anyone could choose a chair from the ReStore and "upcycle" it by turning it into something new. Mark saw the perfect chair—and had the perfect idea to go with it.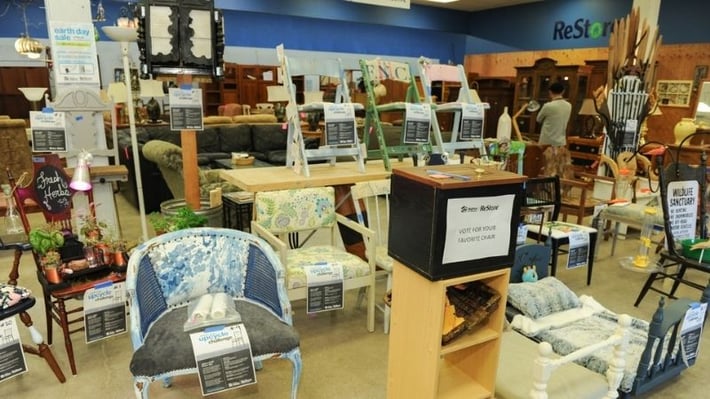 He said of the chair, "it was donated at the Minneapolis store, and since it might be painted with lead paint it was headed for the dumpster. I thought I would give it one last life."
Mark explained his inspiration as an enthusiast for the popular HBO show Game of Thrones. "I'm a Game of Thrones nut!" We found that many other people felt the same, as his chair gained a lot of attention after it was submitted.
Timing was everything for Mark on this project. He explained that even though he had several projects already going, he was inspired and wanted to do something fun for a change of pace. "It also was a great diversion from anxiously waiting for the new Game of Thrones season to be released."
Lucky to have access to our ReStores, Mark was able to work on the project close to home in the New Brighton store. After picking the chair and pieces from other donated items, Mark was ready to go! He described it as the true "game of thrownes" as a fun play on words. While his chair didn't win the Upcycle Challenge, it brought a lot of delight to ReStore supporters.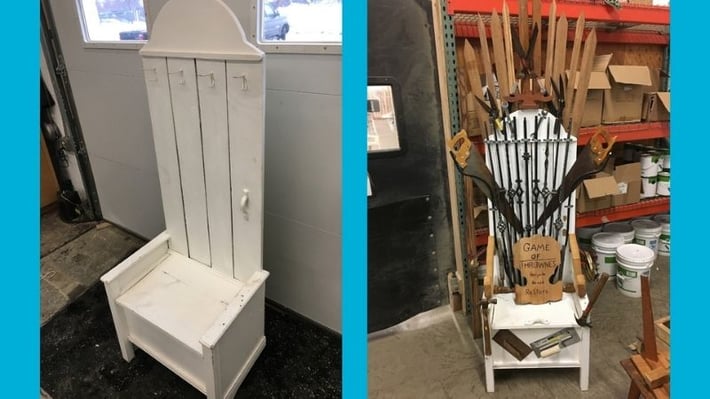 Aside from the Upcycle Challenge, Mark says that being a ReStore employee has helped him personally. "From being a customer, to a volunteer, to an employee, ReStore has helped ease my transition from professional work to retirement. I have also made many good friends being a part of the Habitat family."
As he was working away, he received a lot of encouragement from this family and some great suggestions. We definitely have a creative group of individuals among our staff, customers, and volunteers!
Mark says to anyone thinking about tackling their own project or another Upcycle Challenge, "express your talents and creativity! Take a break from being 'productive'!"