Last March, we attempted to host our third upcycle challenge, but COVID-19 rudely interrupted and we had to cancel. Well, dust off your DIY skills and creativity for a new challenge. We're happy to announce The Workspace Upcycle Challenge!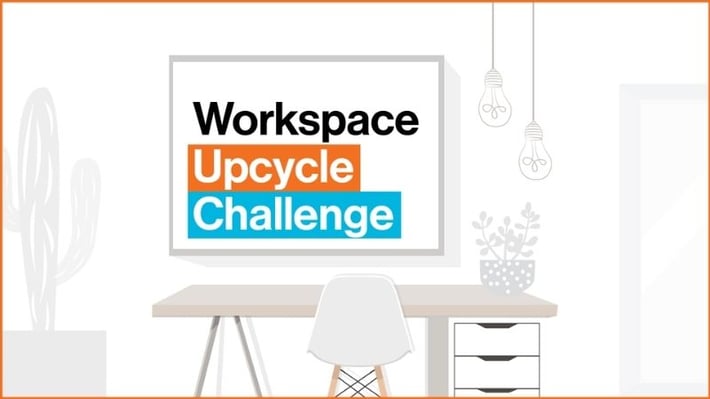 This new upcycle challenge is focusing on a problem many of us have while working during a pandemic, creating an at home workspace! Whether or not your working from home right now, we hope you will join in the fun!
Fantastic Prizes
First place winner will receive a discount card for 35% off their ReStore purchases, valid for an entire year. The winning creation will also be featured on a DIY Friday segment on WCCO.

Second place winner will receive a discount card for 20% off their ReStore purchases, valid for an entire year.

Third place winner will receive a discount card for 10% off their ReStore purchases, valid for an entire year.

All entries will receive a full ReStore punch card (worth $10 off your next purchase).

Employees are unable to win above prizes, but best employee entry will win some Habitat/ReStore SWAG.
Timing and Details
We're unable to show off projects in-store, so this will largely be a virtual contest with challengers submitting a photo of completed workspace. Deadlines listed below:
Enter the Workspace Upcycle Challenge by completing the form below NOW through September 18.

We'll email anyone who signs up a 20% OFF coupon to use at ReStore so you can gather supplies. You don't need to use items from ReStore in your workspace, but you are encouraged to shop for deals. Upcycling is often using what you already have. Be creative!

Get to work on transforming your workspace!

Upload a before and after photo plus a short description of your work by Monday, September 21.

Voting begins on September 22 through September 29 on our Facebook page. A "like" on a particular photo equals one vote, so share with friends and family.

We'll announce the winners on September 30 on our Facebook page, Instagram page and our blog.
Rules
One entry per person. Participants must be 18 years or older to participate. Kid/minor workspaces may be submitted, but we ask you use a parent or guardians name.

Participants must sign up for the competition online by September 18, 2020.

Participants must abide by all deadlines listed above, or their entry may be excluded from the voting and prizes awarded during the competition.

Twin Cities Habitat for Humanity staff may participate, but are excluded from winning major prizes. Don't worry, we'll still give you bragging rights!

Winners who receive a discount card will be the sole user. Discount cards may not be transferred or used by other individuals.

Don't forget to have fun!
Enter the challenge
The deadline to sign up has ended. Look for future upcycle challenges on our blog!
Submit your entry
You've signed up using the form above. You've worked hard at upcycling and transforming your workspace. The next step is to upload some before and after photos! Submit entries by September 21, 2020.
Upload before and after photos