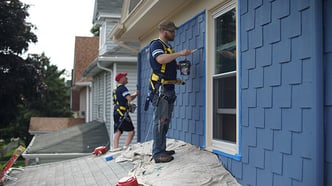 The warm weather has arrived, and it's time to tackle some of those outdoor painting projects you couldn't complete during the winter months. Whether you're painting your deck, trim, or a large project you weren't able to paint indoors, temperature can impact your project.

Here are some tips about temperature and prep work to make sure your spring painting jobs turn out just right.
Temperature Matters
Although your paint may dry quickly, it can take days to cure (reach maximum hardness), and temperature plays a role.
The type of paint also makes a difference. If you're using a water-based (or latex) paint, it should be at least 50 degrees outside when you're painting. Water-based paint also needs several days to cure, and if the temperature falls below freezing (32 degrees), the paint won't form a good film. This will affect how long the paint will last on the surface because the poorly cured paint will be more likely to crack or chip.
If it's too cold during the day when you paint outside and the temperature dips even lower at night, the water will evaporate too slowly, leaving your paint looking lackluster. Cold temperatures and dew can also cause mildew and leave stains, ruining the paint job. When in doubt, check the label on your paint can and keep an eye on the weather forecast.
Oil-based paints are a little more forgiving and can be used when the temperature is between 40 and 90 degrees.
Other Outdoor Conditions
Relative humidity affects how the paint dries. A good rule of thumb is to make sure the humidity is forecasted to remain between 40- 70% for several days when you paint outside. This will ensure the paint dries properly, preventing cracking and peeling, and improving the paint's longevity.
Also, check your weather forecast for rain. While it's more important that the surface is dry before rather than after you paint, rain can cause the paint to improperly bond to the surface. If rain is forecasted within four to eight hours of painting, you might want to wait a day or two.
Be Sure to Prep Before You Start to Paint Outside
Preparation is important for any home improvement job but especially when you paint outside. Before you get started, do the following:
Cover plants: Use plastic sheeting or drop cloths to cover all plants, exhaust vents, and air conditioning units to prevent any paint from getting in the wrong places. You should also tie back trees and shrubs with long branches to keep them out of your way.
Clean it up: To ensure that the paint sticks to the surface and goes on smoothly, give the area a good cleaning. Use a scrub pad or wire brush for small projects, or if you plan on painting your home, pressure wash the surface first. This will help remove any dirt, debris, or mildew that may cause problems with paint application.
Caulk it and prime it: Clean up any old caulking that looks dried or cracked and reseal with fresh caulk. If you're painting wood or metal, be sure to prime the surface first to make sure the paint goes on smoothly.
Painting Tips and Tricks
To make sure your painting project turns out well, we've got a few extra tips and tricks for you.
If you are painting your home, don't paint in direct sunlight. Start in the shady areas, and work your way around the house as the sun moves. This prevents the paint from drying too quickly and prevents heat blisters from forming in the paint.
If you are using latex paint, use a paintbrush that has nylon/polyester blend bristles.
For oil-based paint, a brush with natural bristles is best.
When painting, keep a "wet edge." This means to overlap the current paint area with the one you just finished. The overlapping area is the wet edge. This prevents the paint film from drying, causing unsightly stripes. You should aim for the overlap to start about halfway through the last paint stroke.
Try to work on a day with very little wind. Although not always possible, it's best to paint your home or any project when there is no wind to prevent the paint from drying too quickly.
For more information or to get some ideas for your next DIY project, stop by the Twin Cities Habitat ReStore.