Don't take our word for it. Read what local business and individual donors had to say about their experience requesting a pick up for their donation to Twin Cities Habitat for Humanity ReStore home improvement outlets.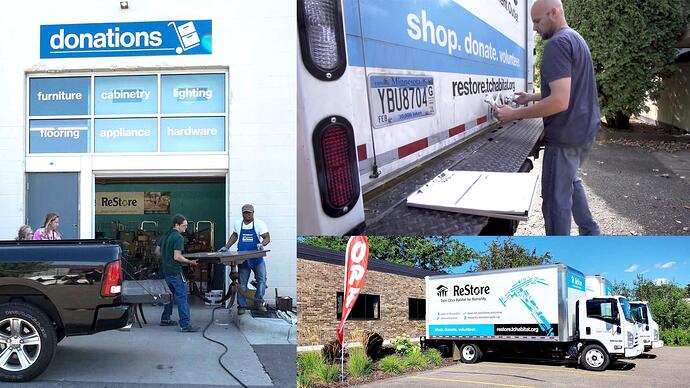 Easy, convenient donations
"It was a great experience. Booking the appointment was easy and the gentlemen that picked up my items was friendly and quick."

"I really appreciate that you come right to the house and take the items out of the garage! I have told many others about how easy it is to donate and it's such a great cause! Thank you!!"

"Truck was on time. Driver was efficient. Our receipt was received promptly. Excellent job!"

"The employee who picked up the item was very friendly, efficient, and loaded the item safely and gently."

"I received a very quick response to my questions! The two gentlemen that picked up my fridge were very courteous and respectful! It was a great experience and I will definitely donate in the future."

"The individual was right on time, very friendly and proficient. Every step of the transaction was wonderful!"

"Super easy, convenient, and the pick-up guy was friendly and efficient."
Of course, there's always room for improvement...
One of the things that people often request is to talk to a human on the phone. If you have a question, leave a message and we will get back to you as soon as we can. We want to make sure we help as best as we can! Call 612-588-3820.
"You were not the easiest to find on the internet (but I'm not a savvy computer user). That being said, after talking to one of your staff and getting directed, it was very simple. I followed your instructions, placed the articles on the boulevard before visiting my wife in the hospital. When I returned back home, the articles were gone and a tax slip was in the mailbox. We are grateful for all you do."

"The guy who came was great, and he did call me before showing up. There was no phone number for confirmation/questions. All was done through e-mail. One never knows how long that will take, so created a little bit of angst. I'm moving and the stuff needed to be gone. I did appreciate the quick reply, but was worried that I wouldn't get the call and then I don't know what I would have done."
Give us a review!
What do you think of ReStore? Rate us on Google:
Write a Google review for our Minneapolis store
Write a Google review for our New Brighton store
Ready to make a donation?
You can drop off your items at one of our store locations, or request a pickup via our online scheduling tool. If you request a pick up, please consider filling out our donor satisfaction survey that will be emailed to you after your donation has been secured by our team. It's how we make improvements to provide a wonderful experience for all of our generous donors!