If you're wondering what a committed volunteer looks like, look no further than Leslie Johnson. Leslie, who goes by Les, gives his time and passion to Twin Cities Habitat both on the construction site and at ReStore.
Les' passion for helping others started before Twin Cities Habitat when he worked as a Registered Nurse. Back in the late 90's, Les along with a group of nurses and doctors decided to volunteer on a Habitat site and worked with 1997-1998 AmeriCorps member, now Site Supervisor, Terra Lumley. Les enjoyed it so much that he kept coming back! Eventually, the members formed the regular crew named Terra's Grunts, and they continue to build once a month. "Les is a wonderful dedicated volunteer. He has every tool and gadget known to man. I call him the Gadget Guy. He's very skilled and a patient teacher," said Terra.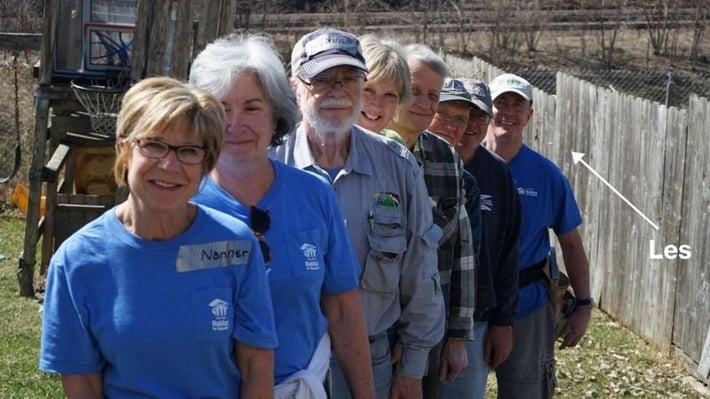 When Les retired from nursing back in January 2017, he was looking for more ways to volunteer, "I retired on a Monday and volunteered on Tuesday," said Les. Les volunteered at his church and shopped at ReStore for items to help with church repairs.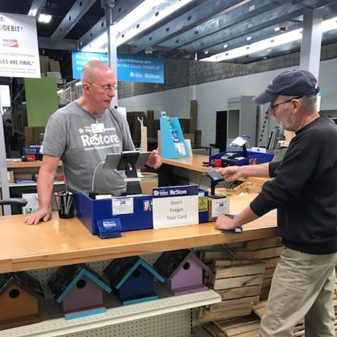 Les decided to look into volunteering with ReStore. "Building can get hard on the body, so I decided to check out the ReStore." After spending some time working the sale floor, he heard ReStore was looking for a regular cashier and thought he'd give it a shot. "The best part is meeting a lot of different people. It's fun to see some regulars. You also get very random questions at the cash register. Someone asked if we take apart air conditioners! You have to be ready to answer questions because there is a lot going on at ReStore."
Minneapolis ReStore Manager Jill Carmody is very grateful for Les, "Les is great. He is always coming up with new time saving ideas to help our Minneapolis store be more successful. We appreciate the time that Les is able to give to the Minneapolis store every week as a cashier. His service at the register allows us to focus on moving new product out to the sales floor, assisting shoppers, and engaging with donors."
Twin Cities Habitat appreciates Les and all our ReStore volunteers for their dedicated work. It's volunteers like Les that make the ReStore run so smoothly.
The ReStore outlets are looking for regular cashier's to join the team. This position is once a week for four hours. Check out our site for more information!