Two years ago, we posted a blog about the Cristo Rey Jesuit High School Corporate Work Study Program. Students from this program spend time working at a partner organization to cultivate both experience and skills. Unlike other programs, though, it also helps to pay for their tuition.
We introduced Andrese in the previous blog, who has been a student working at the Minneapolis ReStore since his sophomore year. Now, as a senior, here's an update on Andrese!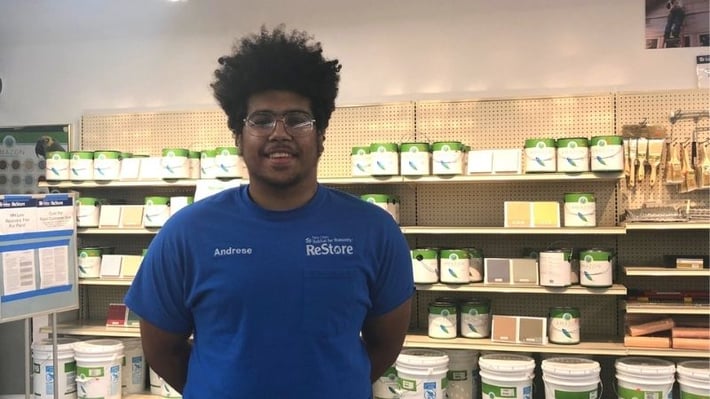 Meet Andrese
Andrese was raised in Minnesota by his strong mother and grandparents. He likes to hang out with his brother and go window shopping around in stores or play video games. He loves to read, but doesn't get a lot of time to read between school and work.
Over winter break, Andrese focused on college applications, but when he wasn't applying - he went out with friends, enjoyed sleep, and visited his girlfriend whenever he was free.
Cristo Rey
Earlier in his youth, Andrese struggled in school. Not that he wasn't getting good grades, but it was hard to stay out of trouble and to stay focused.
When he moved on to high school, Cristo Rey was a new experience for Andrese. The school's size, structure, dress code, and work study program would prove to be very different challenges than his friends would face at their schools.
After his first year, Andrese knew the work study program could work for him. He learned that a desk job was not what he wanted to do (even though he did enjoy the organization). That knowledge alone puts him a step ahead of any high school student with no job experience.
Andrese's advice for incoming freshman is "do your time cards" and "don't worry about what your friends are doing." It's sometimes difficult to stay motivated to do time cards because your work hours and "paycheck" go straight to your tuition. Not seeing the money you're earning can be tough, he says, but keeping track of your work is really important to the process. It's a big step in responsibility and doing them on time shows that you can handle responsibility.
Andrese also explained why to focus on yourself. It's a program for each person. You have to find what's best for you and learn about yourself. It's best to not think of what everyone else is doing or where they will end up so you can follow them.
Twin Cities Habitat
After his first year, Andrese worked with his school to move to a program that would work better for him. That led him to the Twin Cities Habitat ReStore.
"I loved almost everything about it, mostly because it was the complete opposite from the job I had freshman year. People were hands-on and building stuff, working with customers. That's a big thing...working with other people [directly]."
Andrese came to know that his career path would be like working in the ReStore. He liked a job where he would get to move around, interact with people, and learn new and practical skills. "I've learned a lot of different things - become a lot more handy than I was before."
Having also worked for the ReStore over the past couple of summers, and is now a veteran of the ReStore trade. He gets to do new projects every year - and the manager has developed a program for students to rotate roles in the store, so he can learn even more and never get bored.
Andrese says he's pretty open to what will come after graduation, but "higher education is definitely in the cards." Who knows? You may continue to see him at the ReStore in the future - whether that's as a volunteer, staff member, or maybe even an AmeriCorps member.