Michael is a senior at Cristo Rey Jesuit High School in Minneapolis. The school is unique because every student has a part-time job in the real world in addition to their classes. Michael works at Twin Cities Habitat's ReStore one day a week.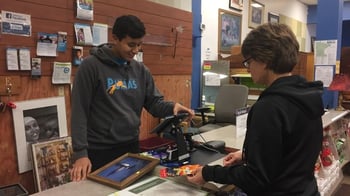 Students' jobs help cover part of their tuition, plus they learn valuable life skills and get a sense for what they might like to study in college. Michael plans on going to college—but not yet. First, he's joining the Marines. Michael has had family members in the military. He is exercising to get ready for basic training and preparing for the entrance testing. Eventually, Michael plans to take accounting courses in college. But first he wants to take care of his family.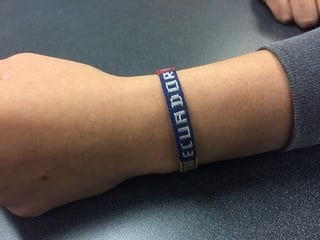 He plays with the "Ecuador" bracelet on his wrist as he explains one reason he wants to serve his country. "I want to be able to sponsor my two sisters in Ecuador so they can come to the US. It's a five-year process." Michael was born in the United States, but his older sisters were not. He got to visit them in Ecuador last summer and says the trip was amazing.
"Michael is just great to work with," says Robin Henrichsen, ReStore Donations Manager. "He's always helping people and ready to do anything we ask him to take on."
Michael's other jobs during his time at Cristo Rey had him sorting and delivering mail and entering computer data. His junior year he started working at Twin Cities Habitat. He liked the experience so he was happy he got to have the job again for his senior year.
At ReStore, Michael enjoys that he gets to move around and do a bunch of different things like handling donations, stocking products, and assisting customers. He says the plan is for his younger brothers who are ages 8 and 12 to also go to Cristo Rey too.
Luciana is another Cristo Rey student working at Twin Cities Habitat this year. She's a freshman, so her job running the front desk is the first job she's ever had. She helps anyone who walks in the door, whether they're there for one of the homeownership classes or has questions about what it takes to buy a home with Twin Cities Habitat. She's learned that "When you're on the phone you have to have a voice that sounds like a smile. The tone matters."
Luciana followed her older sister to Cristo Rey. She told her "It's hard work, but it's worth it. You learn good skills for life." Luciana's older sister is a junior at St. Catherine University in Minneapolis now.
Luciana didn't know about Habitat before she got assigned there. But she's happy about the mission of the organization. "I think everyone should have a place to live."
Several other students from Cristo Rey have worked with Twin Cities Habitat (one even turned it into his full-time summer job). Other students (both high school and college) volunteer with Twin Cities Habitat at ReStores, on build sites, and in many unique ways.