As a student, you hardly expect a class or credit you take in high school to lead to a full-time job. But that's just what happened for a local Cristo Rey Jesuit High School student here at our Minneapolis store.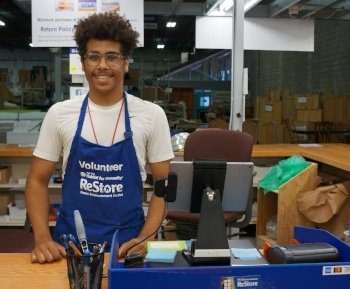 "At Cristo Rey we have a Corporate Work Study program where every student is employed at different companies," Andrese said. "You can try almost anything, from working at Mall of America, to entry level work at Law Firms and Real Estate agencies."

Andrese's first work experience through the Cristo Rey program was with a local real estate agency. After completing his freshman year, he decided he wanted to something more physical–which is how he was introduced to the roles at the Twin Cities ReStore.

"Before even seeing or knowing anything, I thought it was more related to animals," Andrese confessed with a smile. "The more I learned about it, I got really excited."
A few students from Cristo Rey toured the New Brighton store location, where they learned about the various projects and roles that they could take on. The students then began working at the Minneapolis store, after it opened in early Fall 2016.
"The Cristo Rey students present themselves professionally and have the wonderful support of a CRJHS staff person," said Jill Carmody, ReStore Manager who has been working with the students for a few years. "Through this collaborative effort, students learn responsibility, timeliness, and make continual improvements; plus they work on business skills like giving presentations, getting daily feed back on task completion, and filling out time cards."
"I was nervous about the experience, because I'm not good at crafts and stuff like that," Andrese said, "and I didn't know a lot about tools. But everyone was really helpful and I learned a lot."
Andrese spent every Thursday at the Minneapolis ReStore during his sophomore year, and added an additional day at the end of each month.
"Overall, I really like the variety of the things we do here," Andrese said. "There were points where I thought I'd tried and done everything, and then I'd get assigned to something like paint project. There's always something different to do!"
After his sophomore year came to a close, Andrese began exploring summer employment opportunities in the local area, and came across a posting for help at the Minneapolis ReStore. He instantly applied for the opportunity, and was thrilled to find out that he got the job.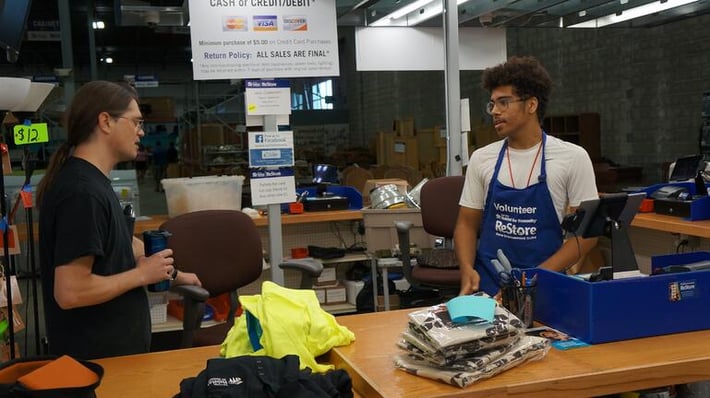 In his new role, Andrese helps other staff members with unloading trucks , receiving donations, cleaning up the store, pricing, projects, and cashiering.
"We just do everything," Andrese said. "It can be different every day."
Andrese also shared how his work experience at the ReStore has given him a different perspective, level of appreciation, and confidence in his new skills:
"I've learned a lot of value in things. I never knew the prices of things and how much they cost. I've learned a lot about different tools and how they're used, and I definitely feel a little handier. It's nice to know how to fix things, especially since I live with my grandparents. I feel like I can help out more."
Andrese is planning on taking AP classes during his junior year, and hopes to stay connected to the store through volunteerism, and possible work opportunities in the future.
"We're excited to have Andrese back for the summer," Jill said. "He has done a great job since day one and he is quick to pick up new skills. He does not hesitate to help staff, customers, or donors."
Twin Cities Habitat ReStore staff members are looking forward to beginning their third year of partnership with the Cristo Rey Jesuit High School Work Study program this fall.
"We continue to experience great success with the partnerships we've established with local youth groups that engage with us through volunteerism," said Jill. "In addition to Cristo Rey, we've worked with the Metro Deaf School, the Step Up Achieve program, Cretin-Durham Hall students, and the Minneapolis Public School Transition Program. Instilling volunteerism in youth benefits both the store and the students, because it provides the support our stores need, while also offering a learning experience for the youth participants."