One of the best things about the holiday season is seeing fun décor in local neighborhoods. Or, maybe you display your own festive creations! If you want to step up your game when it comes to holiday decorations, you've come to the right place.
Thankfully, you can create your own spooky decorations without spending too much money. From our own DIY Friday projects to creative ideas from others, start here and let the decorating begin!
Halloween Door Décor
This fun project brings the "spooky" (and fun) of the Halloween holiday to life. It's also a way to get kids involved.
To make a basic design, all you need is tape (we often have some in stock) and construction paper. Try using cotton balls and white pipe cleaners to add fake spider webs in the corners.
If you want to bring this project indoors, have kids decorate their own bedroom doors. Want to get creative with stencils and paint without a permanent mummy or monster door on display? Stop by ReStore to buy a cheap door and unleash your creativity!
DIY Signs and Gravestones
Another fun way to customize your Halloween display is to create a signs for your front stoop or walkway. One of the simplest and most effective ways to create a sign like this is to use an old cabinet door (sold at ReStore locations), paint, and a stencil.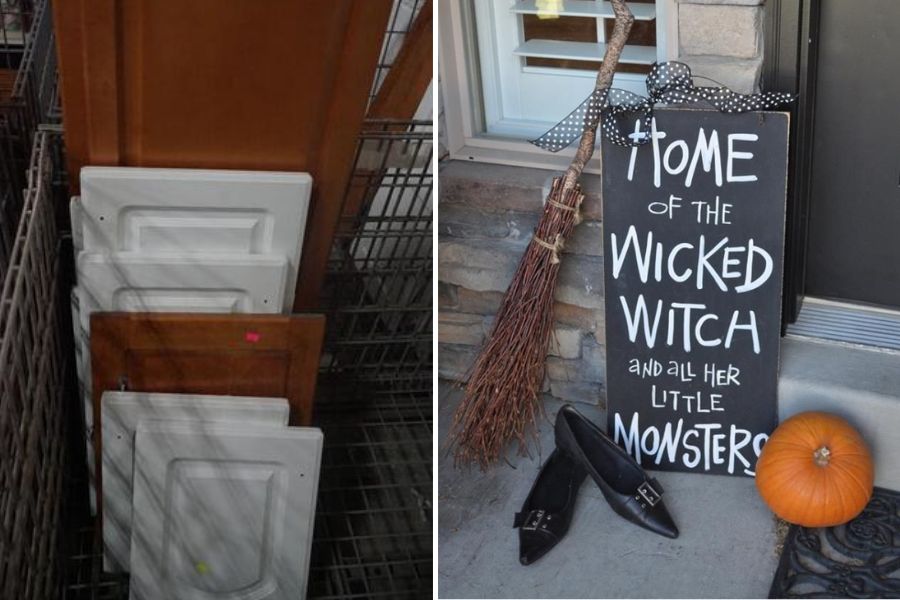 In this DIY Friday segment on WCCO, Jan demonstrates how to make fake gravestones (and adorable ghosts from repurposed lights):
Webbed Windows and Witches' Broomsticks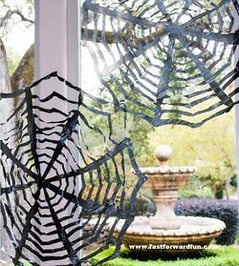 Did you ever make paper snowflakes in elementary school? Here's a similar project! This spider web décor is quick, simple, and affordable—and the perfect piece to add around your windows or on the garage door.

All you need to create large spider webs are a few black trash bags (or white ones, if you prefer), a pair of scissors, and tape.

Another budget-friendly option is to create witches' broomsticks. Simply gather up tall grass and sticks, paired with a larger branch or stick, and tie them together with twine or string. You can even add a custom "broom parking" sign or spray paint your creation with fun colors.
Creepy Candles
Create your own Halloween-inspired candles or a hanging candle display! Jan demonstrates how to make these affordable decorations.
Spiders, Skeletons, and More
On another DIY Friday segment, Jan shows us how to make spiders using wire and old shirts. You can also make a skeleton in a cage using laundry baskets. Watch the video below for more ideas!
Feeling inspired?
Be sure to share your Halloween DIY photos with us on the ReStore Facebook page and subscribe to our blog for more inspiration, tutorials, and tips!