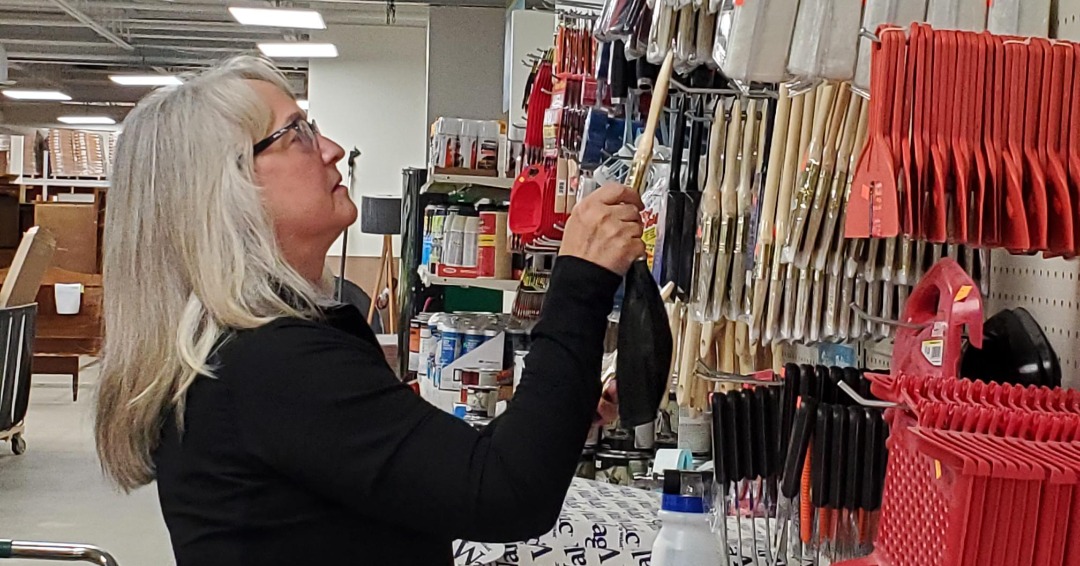 Retirement can leave a lot of people wondering what to do with their time. Giving back as a volunteer on a regular basis keeps you active, gives you a nice routine, and makes you feel a little warmer inside. Just ask regular volunteer Sue.
Sue retired after a career as an accountant in 2017. She knew that Twin Cities Habitat for Humanity built homes for local families to buy and used volunteers to get it done. She thought that was something for her so she signed up.
"As an accountant, I sat a lot," Sue says, "so my goal was to be a little more active and be on my feet."
Sue spent the summer helping build a home in Minneapolis. But construction is a very seasonal thing in Minnesota and fewer volunteers are needed in the winter. However, Sue heard from people on her worksite about ReStore home improvement outlets. ReStore is a cross between a thrift store and a home improvement store. ReStore outlets need volunteers all year round.
After her summer of building, Sue started volunteering at ReStore in New Brighton (there's also a location in South Minneapolis). She initially thought she'd go back to construction in the Spring, but Sue found she liked ReStore so much that she has just stayed there and now has a regular 4-hour shift every week.
Giving Back to the Community
"All Habitat people are so nice and appreciative of everything you do," says Sue. "And everything you do is giving back and helping these families. I think it's a really good organization."
Asked why she was willing to be interviewed for this blog, Sue says she knows they could use more volunteers. "A four-hour shift at ReStore may not seem like a lot of time, but if you get a lot of people doing it you can get a lot done."
"It's great to see Sue each time she shows up to volunteer," says Robin Henrichsen, Director of ReStore Operations. "She's been with us for a bit now so she knows the drill and she jumps right in to help. Having that consistency with a good volunteer makes the ReStore much easier to run."
Sue helps with things like pricing and stocking products. Some things come in new, like paint, and need to be put out on display. But a lot of the work is handling all the building materials and supplies that the public, contractors, and retailers donate. You can drop dotation items off at ReStore or request a donation pick-up within the Twin Cities metro area.
"I'm amazed how many things come into ReStore," says Sue. "I'm there once a week and sometimes it's like the entire store has been redone with all new products and there's always stuff in the backroom that needs to be priced and put out. It shows you how generous the community is about donating things."
Flexible Benefits
Sue enjoys the flexibility that volunteering offers versus having a full-time job. "At first I was working a shift from noon to four at ReStore. But then I had to drive home in traffic, so I asked to change it to a shift from ten to two and now I can avoid all that."
Sue also gets reminded by ReStore staff that it's totally fine to take weeks off if she has other plans, is going on a trip, or wants to spend extra time with her grandchildren.
Sue's husband just retired as a school teacher and now he's deciding what to do with his extra time. Sue has thought they might travel together for longer periods in the future.
"I know there are ReStore outlets all around the country and I'm sure I could volunteer at one of those for a few months if we go somewhere warm in the winter."