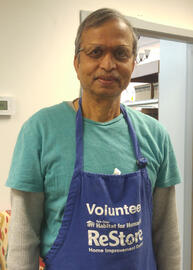 Bihari Desai first started volunteering with Twin Cities Habitat for Humanity when he worked at Xcel Energy, but his passion to give back would last beyond his professional career.

Now a retired project manager, Bihari volunteers for two four-hour shifts each week at Habitat for Humanity's ReStore. As a volunteer, he stocks and organizes shelves, disassembles and organizes scrap metal, and helps customers. He is one one of 40 regular volunteers that help run both Twin Cities Habitat ReStore locations.
Making a Difference
Bihari loves that his volunteer efforts allow him to meet new people and that the money raised in the store helps build homes for those in need through the organization's Homeownership Program.
"There are a number of working people in the metro area who put in their sincere efforts to provide housing for their family," he says. "For most, it is difficult without some external help. These people are not looking for a total hand out. They just need a little jump start. Habitat is well-suited for that. I am a true believer that we can collectively work to eliminate the housing problem."
And Bihari understands that it's so much more than just putting a roof over someone's head.
"We are indirectly investing in the future of children who can become productive citizens," he says. "A child cannot focus on his studies if he is hungry and not properly sheltered."
A Great Asset to ReStore
Each of our volunteers brings a unique set of skills, characteristics, and ideas to their role. Bihari is no different.
When Bihari started volunteering with ReStore, he brought with him a great motivation to help us grow our business. He has lots of ideas on ways to reach out to our local community to share our mission. He is kind, insightful, dedicated to what we do, and his work ethic is admirable.
Bihari sees what needs to be done and does it. He does a great job of helping our customers with their shopping experience and helps us provide new merchandise to our shoppers by stocking items when he volunteers with us.
In addition to volunteering with Habitat for Humanity, he also delivers meals once per week for Meals on Wheels, something he's done for about a year.
Home Life
Not only does Bihari volunteer at ReStore, but he shops there, too! He bought tools to help with home repairs and used kitchen cabinets for his rental properties.
When Bihari isn't volunteering, he enjoys spending time with his family — wife Jayshree, son Sudhen, daughter Suchita, and his three grandkids — going to the gym, reading, surfing the web, learning musical instruments, doing yard work, and traveling. He's been to 26 countries including Luxembourg, Japan, Finland, Sweden, Uruguay, and Morocco and all but five states in the U.S.!
Learn How to Get Involved
We rely heavily on volunteers like Bihari to make our stores run smoothly each day. Every volunteer that gives their time to us allows us to give more back to Habitat's mission. We have around 4,000 volunteers at our stores every year. Whether they are stocking merchandise, accepting donations, cashiering, or recycling, their work directly impacts our sales, our customer experience, and our donations.
"I consider myself fortunate to be part of this mission and thankful to Habitat for providing me with the opportunity," Bihari said.
Volunteer like Bihari are our best advocates. Consider signing up for a shift and giving a few hours of your time to learn what volunteering at our ReStore outlets is all about!