From Waverly to Taylors Falls, and Isanti to Northfield, ReStore is expanding its service area! That means our reliable trucks can pick up goods at more places, including just outside the seven-county metro area. This is the widest service area ReStore has ever had.
Did you know you can request a donation pickup online? It's extremely easy and convenient! Remember, when you donate to ReStore, you help keep items out of landfills while supporting a wonderful cause. Check out the list of new cities and zip codes below:
North and Northwest Metro
55308 - Becker
55309 - Big Lake
55313 - Buffalo
55008 - Cambridge
55012 - Center City
55013 - Chisago City
55029 - Grandy
55341 - Hanover
55040 - Isanti
55056 - North Branch
55362 - Otsego
55078 - Stacy
55398 - Zimmerman
South Metro
55018 - Dennison
55019 - Dundas
55046 - Lonsdale
56069 - Montgomery
56071 - New Prague
55057 - Northfield
55088 - Webster
West Metro
55328 - Delano
55363 - Montrose
55572 - Rockford
55577 - Rockford
55390 - Waverly
East Metro
55084 - Taylors Falls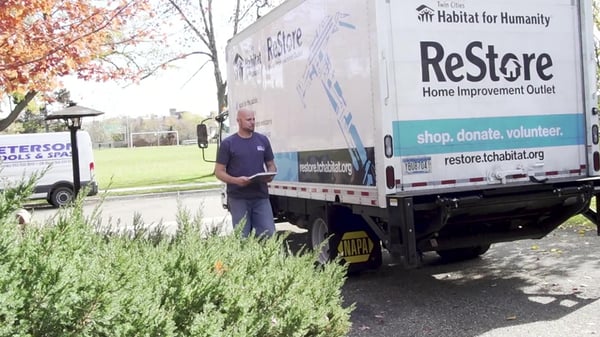 Let your neighbors, friends, and coworkers know if they are in an area that qualifies. Request a Pickup from ReStore; pickups are scheduled between 9 a.m. – 3 p.m., Monday through Friday. ReStore accepts a wide variety of items, including furniture, lighting, flooring, carpet, tile, doors, appliances, new building materials, and more. View the Donation Guidelines for a complete list.
Are you a business, contractor, or construction retailer? Partner with ReStore to donate your mis-orders, overstocks, discontinued items, leftover construction materials, or other items you're looking to get off your hands. Learn more about making a business donation.