Guest blog post by Dunwoody College students.
Last month, a group of students from Dunwoody College volunteered at the ReStore in Minneapolis. Our group is called Kate's Club, which is named after Kate Dunwoody, one of the founders of our college. Kate Dunwoody was a philanthropist and a champion of women's rights in the late 1800s in Minneapolis. Kate's Club is a group of women students who keep Kate's legacy alive by doing community service on campus and in the community.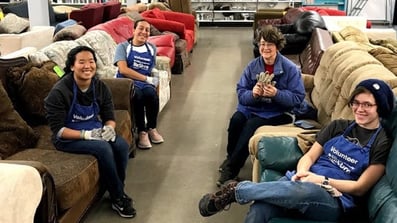 During our volunteer shift [at ReStore], we had a good workout moving donated furniture onto the sales floor. It was great to see how busy the store was with customers during our shift. We also noticed that the donated furniture was good quality! The Habitat staff were helpful and friendly, and they made it easy for us to give back.

We chose to volunteer at Restore because it was a good way for us to get involved with Habitat for Humanity during the colder winter months. We hope to work on a home build someday when the weather is warmer.