It's been a busy time at ReStore! March was our most successful month EVER at both locations and more people are shopping for their DIY projects or donating their unwanted items. We need volunteers who can consistently help out, help run the store, take in donations and assist shoppers. We need YOU!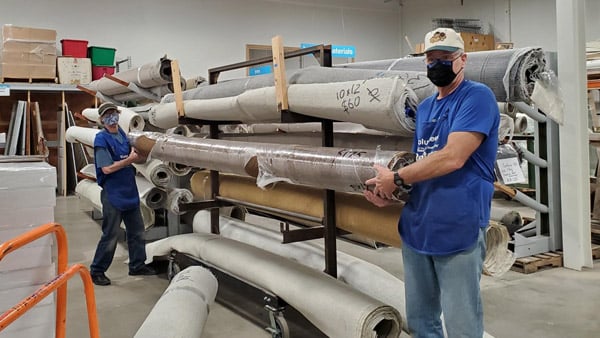 Here is what ReStore Volunteers Tim and Chipper have to say about why they volunteer:

"It's an opportunity to help others. I have an admiration of humanitarian efforts of Habitat for Humanity."

"I've volunteered on home building and wanted to try out ReStore."
Become a Regular Volunteer
A regular ReStore volunteer is someone who typically helps out 3-4 times a month with a variety of tasks. Tasks may include helping customers, accepting donations, and keeping the sales floor stocked. Some volunteers even price items and run the cash register.
For those who like to organize, there are always places in the store that could use straightening up too. ReStore is constantly receiving new items, so organizing the sales floor is a huge help!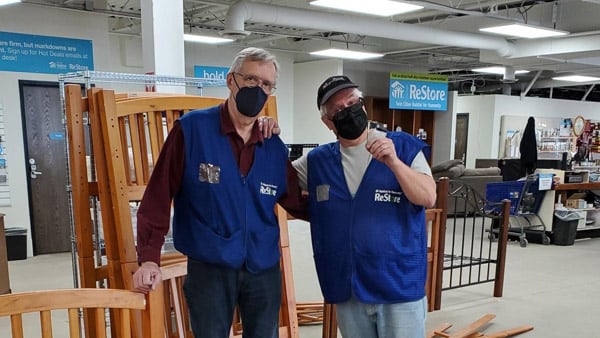 Here is what Warren and Tim have to say about volunteering at ReStore:

"It's fun and helps other people. It's an opportunity to get out of the house."

"I get to interact with others and have fun."
Safety First
Volunteers help us all stay safe by following our COVID-19 safety guidelines and making sure customers do the same. We also need help with keeping an eye on how many people are in the store and making sure everyone is properly wearing a mask at all times. We all need to do our part in stopping the spread of Coronavirus!
BONUS discount!
ReStore Regular Volunteers get 20% OFF (excludes red tagged items) Twin Cities ReStore purchases! If you spot a unique piece of furniture or need tools or materials for a project at home, you won't be paying full price when you become a volunteer.
Next Steps
If you are interested in joining us or have any questions about volunteering, you can fill out the interest form below, or email molly.boland@tchabitat.org if you would like to get started sooner.
We also offer one-day shifts on Wednesday mornings at both New Brighton and Minneapolis. This is a great opportunity to try volunteering with ReStore before committing to a regular volunteer position. See available Wednesday shifts here >
Are you interested?

Fill out the form below: