One of the most popular items sold at the Twin Cities Habitat ReStore are Adirondack chairs and toy boxes built through youth workshops. These chairs not only generate funding for our mission, but also provide a hands-on building opportunity for volunteers who are too young to help with construction on our Habitat homes.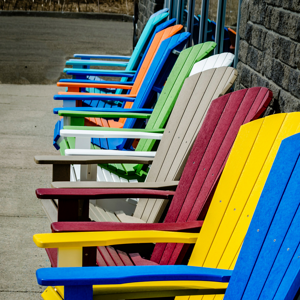 "Shoppers often ask about our Adirondack chairs, which are in high demand all summer," says Jill Carmody, Twin Cities Habitat ReStore manager.

No, we don't buy them in bulk. They're handmade by youth volunteers wanting to participate in a hands-on activity to help Twin Cities Habitat for Humanity's mission: to eliminate poverty housing from the Twin Cities and make decent, affordable housing for all people a matter of conscience.

To volunteer on a homebuilding or A Brush with Kindness (Home Repair) site volunteers need to be at least 16 years of age or older (with supervision) to participate. Youth age 14 or older can work at our Twin Cities Habitat ReStore outlets or participate in Habitat's landscaping program (with supervision).
"When people think about Twin Cities Habitat, a lot of people think about building," said Shelby Vraspier, Education and Group Engagement Associate. "Youth want to be involved with building, so finding a safe, meaningful way to do this was important to us."
The Creation of Youth Workshops
In 2012, an AmeriCorps Vista service member was challenged to find additional ways to engage kids under the age of 14 in a meaningful way with Habitat's mission. The AmeriCorps member proposed building Adirondack chairs. From there, the project has evolved over the years and now includes the construction of toy boxes as well.
Twice a month Twin Cities Habitat facilitates youth workshops. We work alongside youth groups from all over the 7-county metro. Our partnering groups help recruit youth, chaperones and provide a space to build. We bring precut kits, tools and experienced volunteers.
To get even more kids involved, Twin Cities Habitat partners with a wood shop class at a local high school in St. Paul. These students cut wood for the kits during their classes.
Workshops in Action
Usually, about 4-5 youth volunteers work together to build a single Adirondack chair or toy box. Youth learn not only how to build but they use a lot of team building skills. Students work together, practice patience, encouragement and reading directions! The entire project can take roughly an hour and a half to three hours to complete (depending on if they are building a chair or box).
Workshops vary in number of participants we like to have 10-30 youth participate. Youth workshops not only provide the opportunity for the students to build, but they also have an opportunity to learn about Housing issues in the Twin Cities, ask questions through an activity call BTA (Build Think Act)!
In the past many of the churches and teachers that help to organize these workshops purchase the chairs and boxes for their congregation or classroom.
"One teacher bought both Adirondack chairs her students built. She put one in her math classroom as a study area and gave the other one to her dad for Fathers Day. Having the chair in the classroom allowed the kids to see their own work every day," Shelby said. "The youth were so excited to see their work in the classroom every day."
Completed chairs and boxes are sometimes stained or painted by store volunteers or left unpainted and sold (for $35) at both Twin Cities Habitat ReStore outlets in New Brighton and Minneapolis. Some chairs and boxes are given as gifts to Habitat families at their home dedication celebrations.
"Once our shoppers realize that they are made as a volunteer activity in our youth engagement programs, it makes them even more excited to buy these great items from our stores," Jill said. "Comments that I often overhear are, "these are so comfortable," "what a great value for these chairs," and "you have to try sitting in one of these."