It's a loaded question, we know, but when the COVID-19 outbreak happened about a month ago MANY things changed. It effected our employment, personal lives, mental health and social norms. Since then Twin Cities Habitat has started to operate virtually with the one goal in mind. To preserve safe, affordable, stable, homeownership. It's more crucial than ever before.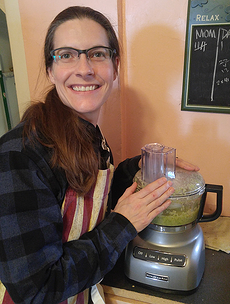 Even though ReStore remains temporarily closed, we thought we'd share what some of our ReStore staff have been up to since the closure. You can always check our COVID-19 webpage for updates.
Pete, the ReStore Director, visits the closed locations almost daily to make sure they are secure. The New Brighton ReStore expansion project keeps on truckin' and his careful oversight will make sure when the stores open again, ReStore will be even bigger and better. Thanks Pete!
Jill, the ReStore Manager, reports that EVERY room in her house is clean. Her dog is happy and her collection of books to read pile is starting to diminish. And like many of you, she's been cooking. Jill shared her Beef Soup with a Mexican Flair recipe below. Bon appétit!

Beef Soup with a Mexican Flair
Ingredients

1 lb. beef of your choice. I did the precut stew meat since that was what was available at the store.

4 tsp vegetable oil. I used canola.
1 medium onion, chopped medium
5 oz. sliced mushrooms, optional
5 tsp of minced garlic
½ tsp of dried oregano
½ tsp cumin
½ tsp dried epazote
½ tsp jalapeno powder
4 cups beef broth
4 cups low sodium chicken broth
1 yellow pepper, diced
1 orange pepper, diced
1 red pepper, diced
1 can (14.5 oz.) of diced tomatoes, all in
2 bay leaves
1 small bag of grated carrots
2 medium Yukon gold potatoes, diced
1 small bag of frozen corn
2 fresh jalapenos, seeded and diced. optional

Preparation Instructions

Pat the beef dry. Season with salt and pepper. Heat, med-high 2 tsp of oil in a Dutch oven or other real big pan. This is a lot of soup. Add meat to the oil and brown, 5-7 minutes. Transfer meat into a bowl, set aside.
Heat, med-high 2 additional tsp of oil in the pan until hot. Add onion and mushrooms, cook until soft, 5-7 minutes. Stir in garlic and all the spices, 30 seconds
Added beef and chicken broth, scrap pan well. Added diced peppers, tomatoes, bay leaves and bowl of meat and juices. Bring to a boil, and then simmer for 30 minutes.
Add carrots and potatoes, 25-30 minutes. Then add frozen corn, simmer another 10 minutes.
Add diced jalapeno right before serving. Top with your favorite things. Cilantro, sour cream, avocado, cheese, hot sauce etc.
Enjoy
Robin, the Donations Manager, has been walking, reading, cleaning, putting puzzles together, yard clean up, and reaching out to family and friends to find out how they are doing. Her plan is to start spring cleaning soon – carpet and windows up first. Robin also continues to answer donor questions, so they aren't left without answers. Even though Robin is kind enough to continue communication during the closure, please hold onto your donations until ReStore is back in action. We'll need your home improvement donations soon.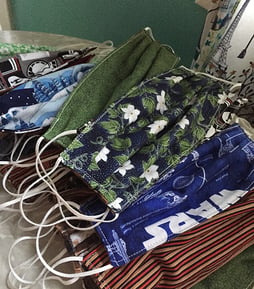 Diane, the Sales Associate, has been making masks and doing a bit of upcycling while re-watching "A Chef's Life" on PBS passport. She's getting used to the new daily routine with kids and takes daily walks for sanity breaks. Above all, keeping things in perspective and taking it one day at a time. Allina Clinics had asked for home-sewn masks to free up the supply of higher-quality ones, so what better way to put those sewing skills to good use!
Jan , the Assistant Manager, our own DIY expert had joined a textile "scrap box" challenge through Crispina. She's not only great at upcycling furniture and found objects at ReStore, but has talents using textiles. Jan and Diane have also partnered in creating cloth face masks for staff and volunteers for when ReStore opens again.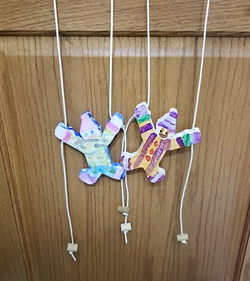 Larry, the Donations Coordinator, is learning how to cut his own hair and deliberately did not share photos. Getting into the DIY spirit, he made some climbing clowns for the grand kids to paint and race. You can find the instruction here.
Grant, the Sales Associate, has been doing a lot of neighborhood and park hikes, anything to get the kids outside and exercised. Grant's wife is working from home, so any peace and quiet she can get is welcomed. There are tons of projects on the list but with kids home, he's finding it difficult to get it all done. Hang in there Grant!
This isn't all of the staff at ReStore, but it was great to hear what a few have been up to in these difficult times. We'd love to know what you've been up to, so use the comment section below to drop us a line. We miss seeing your friendly faces everyday in the store. Stay safe and healthy! We'll see you soon.