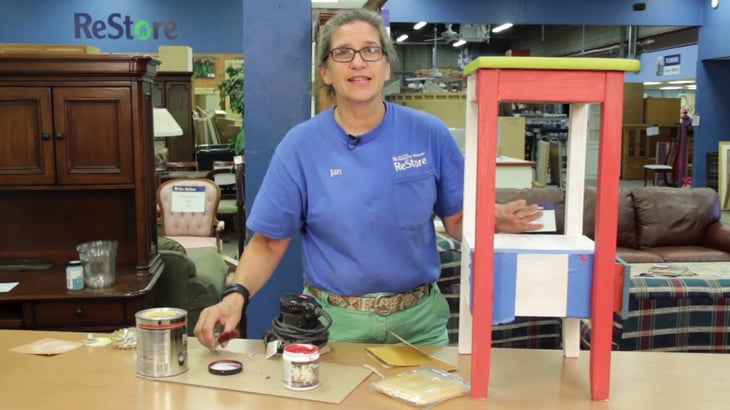 Do you recognize that face? Maybe you've seen her at the State Fair? Or was it on her regular DIY Friday segment on WCCO? You could've spotted Jan Hagerman in either of those places, or where she spends quite a bit of her time—at the Twin Cities Habitat for Humanity ReStore in New Brighton where she's the Assistant Store Manager.
Jan first joined the Twin Cities Habitat ReStore team in 2015 as the Pricing Associate. She quickly proved to be a perfect fit for the team and now she says it feels like she was "never not here."
Most people don't have experience sorting and pricing donated goods to be resold to support a mission—Jan's got that. For the past 15 years, she's been part of the hugely successful Wayzata Community Church Rummage Sale that brings in roughly $170,000 annually. On top of that, Jan grew up in her parents' jewelry business and her first career was as a gemologist, so she has decades of retail experience starting from her teen years. That background, combined with Jan's do-it-yourself inventiveness, is what makes Jan a great asset at the ReStore.
Jan says that she's drawn to the ReStore for two big reasons: the connection to Twin Cities Habitat's mission and the positive impact on the environment. Knowing that the New Brighton ReStore diverts nearly 700 tons of waste from landfills helps Jan rest easy each night. "We only have one planet and one chance to get it right in our lives," she shared.
The child of parents raised during the Depression, Jan learned to make her belongings last. She applies that thinking to DIY projects at the ReStore. "I can take something old, keep it out of the dumpster, and make something cool instead of buying new." Jan is a regular guest on WCCO's DIY Fridays, where she has an opportunity to demonstrate some of these projects.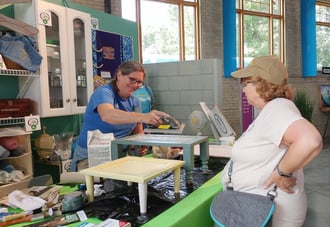 Jan attributes her creative side to her mother, who was an artist in many mediums and a renowned ceramics and floral instructor. Jan says that when she's on WCCO, she's channeling her mom. And, like the rest of us, Jan turns to Pinterest when she runs out of DIY project ideas.
With her recent move to Assistant Store Manager, Jan hopes to engage more high schoolers in the ReStore's work. Jan says it's a great way for young people to give back, meet new people, and learn about sustainability. Her daughter is a senior in high school and has contributed more than 125 hours this year.
Jan and her husband, John, live in Deephaven and have two children, Priscilla (17) and Holden (20), who grew up acquiring a wide variety of talents and skills. Jan and John spent years on the Renaissance Festival circuit, traveling 11 months of the year selling musical instruments through their small business. When she's not at the ReStore, Jan is a textile artist and enjoys sewing, gardening, and swimming.