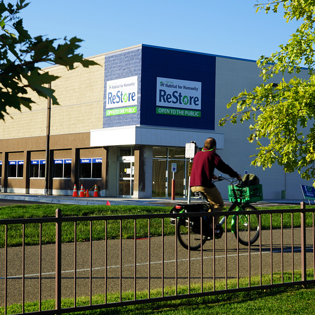 When you walk into Twin Cities Habitat for Humanity's new ReStore in South Minneapolis, you'll immediately see a great selection of furniture, lighting, paint, building materials, flooring and more. You'll also see low prices on everything you need for your new home fix-up or repair projects. You'll even see smiling faces of ReStore staff and volunteers eager to help you find exactly what you need. What's not so easily noticed is what makes the new ReStore a great green partner to the community.
The new ReStore is brightly lit and inviting, thanks to a bit of green technology. What looks like fluorescent lighting is actually LED lights. They are brighter than fluorescent and they cast a warmer, more natural light. Most importantly, these eco-friendly lights will use 50% less electricity and last more than six-times longer!
Almost everything donated to ReStore comes in a cardboard box. That means cardboard quickly becomes a mountain of waste. Thanks to a grant from Hennepin County, ReStore was able to purchase a start-of-the art cardboard baler from Harmony Enterprises for the store. Now, instead of simply throwing cardboard into one of their dumpsters, ReStore will be able to send it for recycling. This will result in a 20% savings in recycling costs and keep tons of material out of landfills. To make this program even more effective, the grant from the county also allowed ReStore to purchase organic and recycling bins, three large tip carts for collecting cardboard and a used semi-trailer. The store will now have space to store cardboard and other recycled materials until there is enough to have it picked up for free, instead of having to pay to have it hauled away.
ReStore was so inspired by the idea of a new baler, that they applied for, and got, a grant from Ramsey county that enabled ReStore to buy a new baler to enhance the recycling efforts of ReStore's New Brighton store. The grant was for $10,000, the perfect size, considering the new baler cost $9,999.
Imagine opening a garage door into your living room 40 or 50 times a day in midwinter, or in August heat. It would be uncomfortable and be very wasteful of energy. Part of the design of the new ReStore includes a donations "shed." Instead of having the donations door open directly into the store, a shed was creatively designed to separate the donations area from the main floor of ReStore – it looks like half a house extending into the store. The structure keeps cold air out in winter and cooler air in during the summer. Year around it makes the whole store more comfortable and is estimated to save 10% - 15% on heating and cooling bills.
The new store design incorporated the repurposing of products, too. Specifically, the wall separating the backroom from the sales floor was made from recycled wooden doors, as were the dividers in the door and window department. Old doors were even used as the counters in the checkout area, too.
The very existence of ReStore is green. While the Minneapolis store hasn't been open long enough to compile a record, results at the New Brighton store point the what should happen at the Minneapolis store in the future. For instance, by reselling unneeded building materials, the New Brighton store keeps 692 tons of was from entering the waste stream each year. In addition, over the past three and one half years, the New Brighton ReStore has recycled 526 tons of metal and other wastes salvaged from broken fixtures, hardware and lighting ReStore volunteers break down for recycling.
Finally, every time someone donates an unneeded but still usable item to ReStore, and a customer buys it, that item is being kept out of landfills. The proceeds from the sale of the item end up supporting Habitat's mission of build more homes low-income families can by with affordable mortgages.
Family-to-family recycling, being good neighbors to the community, and responsible stewards of our resources, is what makes ReStore such a great place to support.