Meet our New Brighton ReStore wood-working volunteer, Calvin, everyone!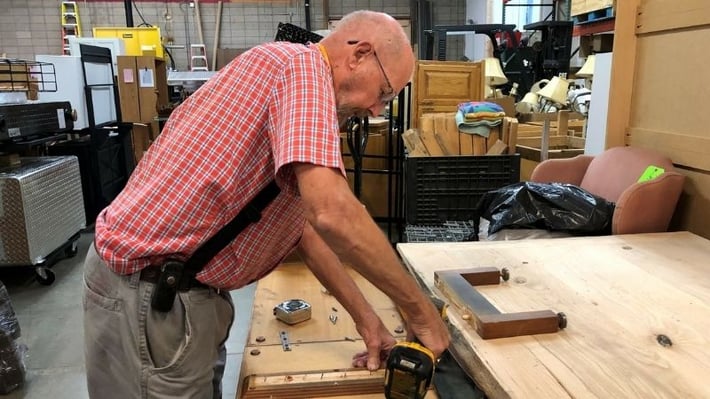 Calvin was born a farm boy in a family with nine children and worked for the first 27 years of his life as a farmer. When he started helping his neighbor who owned a carpentry business, the rest was history.
Since leaving the farm, Calvin has worked almost his entire life in carpentry, where he fell in love with being able to create something from a day of work.
Calvin began volunteering with Twin Cities Habitat through our A Brush With Kindness home repair program. After the Twin Cities Habitat ReStore opened, he decided to switch to where he might be needed more and put his skills to work repairing and creating furniture for shoppers looking to improve their home.
Calvin enjoys coming out to "do what I do best" and loves to keep busy working. He feels blessed to be able to do what he loves and has talent for, because he says not everyone is so lucky.
His favorite part of the job is finishing work (railings, stairs, etc.) because he is able to see everything come together as a visible representation of the work he put in.
Bill Sevlie, one of our ReStore Sales Associates, had this to say of his time with Calvin:
"Cal Peterson has been working with the ReStore longer than the five years I have been here. I have had the pleasure working and learning from him and his master carpenter skills. I don't use the term 'good man' frequently, but Cal is truly a good man. He embodies his religion without saying a word about it.

I have given him projects that I know wouldn't get done without him. He has built fixtures around the store that are indestructible, and has done some of my most difficult projects. We have come up with a style of furniture that we call 'modern rustic.' I find something that is modern and we use very rustic materials and produce what I think is a really beautiful piece of furniture."
One weekend a month, Calvin also volunteers his skills at Covenant Pines Bible Camp - both because he enjoys it, but also because he feels compelled to give back to the place that brought him to his wife 56 years ago.
Calvin loves to volunteer because he likes to be able to give to organizations that can make such a difference in people's lives. He says "Habitat is like that, that this can make a change in their lives - getting [people] in their homes. I'm sure that's just paramount."
"It's fun when you build something and it works out," Calvin adds. All the hard work pays off for Calvin because he knows his projects are sold in order to fund more Habitat homes.
Calvin enjoys volunteering alongside other people who really care and do their best, "even when they could be golfing." Calvin thinks Habitat is a special place because you can work hard and make a difference. We know this to be true—because of people like Calvin.