Twin Cities Habitat for Humanity ReStore is adjusting its hours of operation effective immediately. Early birds now get to sleep in!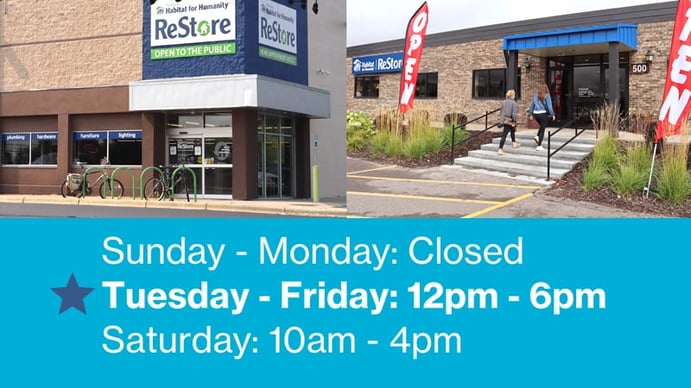 New Hours
Sunday - Monday: Closed
Tuesday - Friday: 12pm - 6pm
Saturday: 10am - 4pm
*Please also view holiday closures here
Why the change?
Both ReStore locations are open and operating with added safety protocols, but right before Thanksgiving Twin Cities Habitat made the difficult decision to suspend all volunteering until further notice to help slow the spread of Coronavirus and protect our staff and community. This includes all homebuilding, home repair, warehouse, and ReStore volunteer opportunities for groups, individuals, and regular and skilled volunteers across the organization.
ReStore relies heavily on volunteers to help operate the store, so without them, staff will use two hours each morning to restock and price items before opening at noon (Tuesday through Friday). Saturday hours remain the same.
Beyond all else, our highest priority is the health and safety of our entire Twin Cities Habitat community. We hope you continue to shop and donate to help support ReStore and Habitat's work, but we value YOU more than anything. Stay safe!
We will post updates on our Coronavirus Response page