When your first job as a high schooler is at a Twin Cities Habitat ReStore, you can rest assured that you'll have plenty of variety in your work. That's what ReStore interns through the Step-Up Achieve program have found.
Emanuel, Ruben, and Darryl have spent several days each week this summer in a paid internship at the Minneapolis ReStore. They spend their time unloading donations, pricing items, fixing donations, cashiering, and whatever else needs to get done around the ReStore.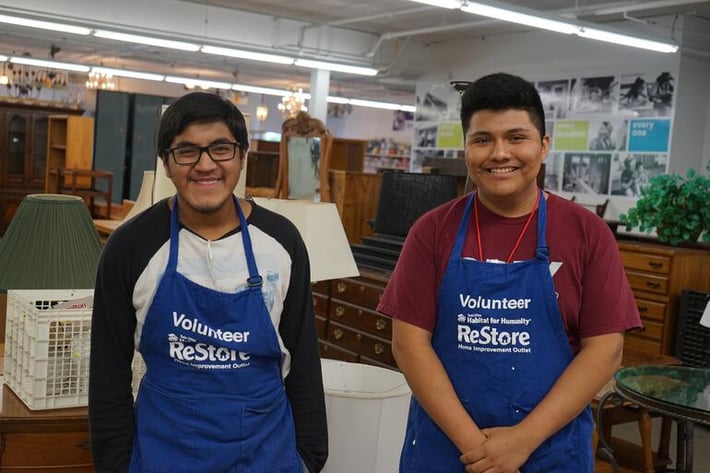 Ruben (left) and Emanuel (right) working at the Minneapolis ReStore
Emanuel will be a Junior at Cristo Rey Jesuit High School this fall. All students at Cristo Rey take internships in addition to their schoolwork, and several other Cristo Rey students have interned at one of the ReStores or in the Twin Cities Habitat office. In fact, a fellow Cristo Rey student, Andrese, is working the day I visit. He turned his paid internship into a full-time job at the ReStore this summer, and will be back in the fall.
"My favorite part is working with others," says Emanuel. He had done some small construction jobs with his family before his internship, so he knows a bit about some of the construction items that come through the store. Still, he's learning a lot.
Ruben is going into his senior year at Washburn High School, and this is his first paid job. He wasn't quite sure what to expect when he started at the ReStore, but was a bit surprised at all the lifting.
"On the first day they had us unloading from the donation truck, taking out these big glass doors," he says. Gary Vanderbush, the Assistant Manager at the Minneapolis ReStore, overhears and smiles.
"It's nice to have this group of guys to help us lift all the donations we get," Gary says. It's clear that, even after a few weeks, the interns are already part of the ReStore family, working seamlessly with Gary, other ReStore staff, and volunteers. And it's clear that the ReStore staff loves having the interns around and are pleased with how quickly they learn and how eager they are to take on new tasks.
Even despite the lifting, Ruben is enjoying his time. His favorite thing to do is working in the back room, where he's done everything from fixing old sinks to painting a bench. Whatever it takes to get donations ready to sell.
Ruben knew he wanted a summer job, and took advantage of the Step-Up Achieve program he had heard about at school. Students apply to the program in late spring and learn the skills they need, then they are matched with potential employers, interview, and get hired. Step-Up Achieve Minneapolis works with over 700 youth each year in partnership with 150 top Twin Cities employers, and we're lucky enough to be one of them.
We're so grateful to have our student interns making a difference at the Minneapolis ReStore this summer. We wish them all the best in the new school year and beyond!