If you've stopped by ReStore in New Brighton or Minneapolis, you've probably been greeted by friendly, smiling employees. Our ReStore team keeps things running smoothly for shoppers, coordinates volunteers, processes donations, and much more. They work behind the scenes and on the sales floor to offer a positive experience for everyone. And, in recent years, the ReStore team has grown significantly. In 2014, ReStore had five full-time workers. Now, including the donation team and part-time employees, we have a team of 25. Read on to learn more about growth at each store and what it means for us—and you.

New Brighton
The New Brighton ReStore opened in 2009 and underwent a significant remodel in the summer of 2020. Changes included adding 14,000 square feet, widening aisles, installing a secondary entrance/exit for handicap accessibility, and implementing a more open layout. The expansion also resulted in more employees. Before the remodel, six full-time employees made up the team. Now there's 11, enough to have more people working on busier days. We added four part-time team members within the first year, and another joined us in 2022.
Minneapolis
Our newest ReStore location opened in Minneapolis in the fall of 2016. We started with three full-time employees and have grown to a team of five full-time and two part-time staff. This allows us to keep up with growing customer demand and ensures shoppers get the best deals while having a positive experience. At both stores, ReStore staff are out in the open and behind the scenes. We also employ truck drivers to keep our free donation pickup service going.
Learn about both ReStore locations and find the store nearest you!
More Employees, More Impact
A bigger team means a better experience for shoppers, donors, and volunteers at ReStore. Shoppers still get great deals. Donators support our mission with products for our stores, and proceeds go toward Twin Cities Habitat for Humanity's work in our community.
We also invest in our staff members and train them intentionally. Each individual contributes something unique to the team. The people we hire understand and care about our mission. That goes a long way for us, our customers, and Twin Cities Habitat. Even with different roles, we help each other out and learn to do a bit of everything. Of course, people gravitate toward things they enjoy and we're able to customize roles based on strengths. For example, our new team members' helping hands allow us to increase our donation intake. Others enjoy customer service, helping answer customer questions, or working at the register.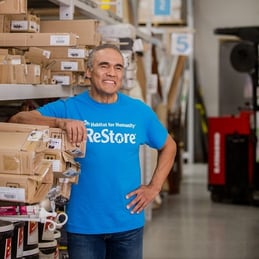 One of the biggest results of more staff is more volunteers. We have more people with time and opportunity (and passion!) to work with our volunteers. This allows volunteers, whether it's their first or fiftieth time, to have a positive experience. Our team members are dedicated to ensuring volunteers feel welcomed and prepared for shifts at ReStore. There's no doubt about it: Our staff members help us succeed!
Join Our Team
Interested in joining our growing, dynamic team? Learn about working at ReStore and explore opportunities. We are always working to be as diverse as possible, and that philosophy is at the forefront of our hiring process. Our employees range from high school students to retired folks and everyone in-between. Want to try volunteering? We welcome you, too!
"I am appreciative of the opportunity to use skills I've acquired over years of customer service and retail work while supporting a cause I feel deeply connected to. Much of my identity is enhanced and strengthened through homeownership, and this motivates me to support others pursuing stable housing through owning a home. It's also great to work for an organization that understands their employees are better people and workers when given excellent benefits, including flexible scheduling for better work/life balance, ample PTO and holidays, and affordable healthcare."

— ReStore Sales Associate Nick
Working at ReStore is energizing and fun—and it's a great place to meet kind people. Our customers are amazing, our staff is excellent, and Twin Cities Habitat is making a real difference.