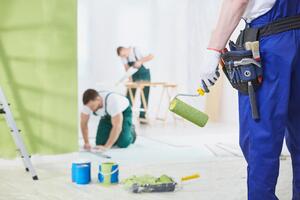 With Earth Day approaching on April 22, you may be thinking of ways to live a more environmentally-friendly lifestyle. You might be considering things like carpooling to work, composting, supporting environmentally-friendly businesses, or donating your items instead of throwing them away.

But what about that remodel project you've got planned? Did you know that most debris and leftover materials from a renovation will end up in landfills? There's also the issue of off-gassing from materials made with toxic chemicals. But there are ways to make your remodeling project more eco-friendly. Here are a few of our favorites.
Hire Green-Savvy Professionals
If your remodel is a big project like a complete kitchen overhaul, you're probably planning to hire a team of professionals to do the work. Many contractors specialize in green-building, meaning they use eco-friendly and sustainable materials and dispose of waste properly. These efforts protect the environment from toxins that can leach into the ground.
You can hire a conventional builder and still get your remodel project done with little damage to the environment, but it will require some extra legwork on your part. Ensure the builder is using the proper materials and disposing of waste in an eco-friendly way.
Consider How to Dispose of Materials
If you plan to do the project yourself, you'll need to figure out what to do with the waste from your demolition and any leftover materials you may have. You can repurpose some of the materials for fun DIY projects, or you can recycle the materials by finding someone who may have a use for them.
You can always post an ad on Craigslist or take the materials to a local salvage yard. Leaving them by the curb may be an option as well, but you can also take many building materials to the Twin Cities Habitat for Humanity Restore. We take things like drywall, plywood, lumber and baseboard trim. Check out our donation guidelines to make sure we can accept your materials.
As a side note, be conscientious when doing demolition. Wear the proper safety equipment, especially if you are working on an older home that may have used toxic materials. Also, make sure you cover all air vents to keep dust and debris out of living areas.
Be Mindful When Considering New Materials
Many building materials are made with toxic chemicals that can contribute to off-gassing. Also known as out-gassing, off-gassing occurs when volatile organic compounds, or VOCs, are released into the air. This can occur inside your home from a variety of sources, including:
Carpeting
Cabinets
Paint
Furniture
Insulation
Flooring
Adhesives
To prevent this, you'll need to source materials from green suppliers. When purchasing lumber, check that it is Forest Stewardship Council-certified. If you're replacing flooring, try to use something sustainable like cork, bamboo, reclaimed wood, vinyl, or linoleum.
Avoid using carpet because it is full of petrochemicals, while vinyl contains PVC and can cause serious health problems. When choosing paint, make sure it is non-VOCs. You can also find caulk and sealant that is free of VOCs.
Go Energy Efficient
No matter what you are remodeling, you can make it more energy efficient. The most obvious way to do this is to replace appliances with Energy Star-rated appliances. But you can also make a big impact on your carbon footprint by changing out your light bulbs and shower heads.
Making sure your home has the right insulation can also make a huge impact on your home's energy efficiency. Using the most energy-efficient and least toxic insulation, and using the right amount, will lower your energy bill drastically.
Whether big or small, your efforts to be environmentally friendly during your remodel will help keep items out of landfills, reduce off-gassing, and conserve energy.