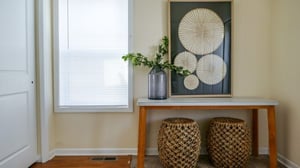 Just moved into your new home? Next step – furniture shopping! But where to start? Buying a new home can mean moving into a larger space, smaller space, or simply just a different layout that requires different sizes or styles of furniture. You might need a number of new pieces of furniture to fit the new space. This is also an exciting opportunity to make your house feel like home. So what steps should you take before buying your new furniture?
Furnishing Your New Home Checklist
Get to know the space first. Don't buy items immediately. Spend time in your new home to understand your furniture needs before you make any big purchases. For example, you might realize you use the back door more than the front and need an entryway piece for things like keys and purses there.
Measure! And then measure again… and again. There's nothing worse than buying that perfect piece of furniture only to find out it doesn't fit! Take measurements before you go shopping, and always have those numbers available (either on a piece of paper or on your phone). You never know when you'll stumble across something that might work in one of your rooms – but you won't know for sure without those handy measurements!
Window shop. Shop around in person or online. Get a feel for different fabrics, materials, and styles. This will help you understand why a handcrafted piece might cost more than an "assemble yourself" piece.
Set a budget. Don't overextend yourself. Nobody expects your house to be fully furnished when you move in. You can give yourself time to adjust to your new homeownership expenses and gradually purchase furniture you love.
Stretch your budget by shopping for used furniture, accepting hand-me-downs, or refurbishing your current pieces. (We can offer a lot of help in this department at ReStore Home Improvement Outlets).
Tips for Furnishing Individual Rooms
Now let's take a closer look at potential furniture needs by room. This can help you prioritize your shopping list based on which rooms you use the most.
Bedroom
Common bedroom pieces include a bed, dresser, and nightstand. Depending on the size of the room, there may be space to add a bookshelf, vanity, or chair. Start with the essential pieces and build out from there. Many furniture stores offer bedroom sets with matching pieces. Buying a set can help alleviate some stress of finding items that go well together. Then you can give the room your own personal touch with accent pieces and artwork. If a bedroom is small, you can make it seem larger by avoiding too much furniture and eliminating clutter. Light colors - floors, walls, bedding and window treatments, also can make the room feel larger.
Living Room
The living room is another heavily-trafficked part of the house. Determine how you want to use this space before buying furniture. Many living rooms focus the furniture around a TV. A living room set up like this would include a couch, chair, end tables, and entertainment center. But some people use living rooms as a gathering space, with seating areas meant for conversations instead of watching television. This could mean two smaller couches or a set of chairs facing each other around a coffee table. (For proper legroom, leave 14 to 18 inches between the furniture and the coffee table).
Dining Room/Kitchen
Some homes have a space for dining within the kitchen while others have a separate dining room – and some have both! What kind of space do you have for dining? Do you need a small table that fits within a kitchen, or a large dining set with a buffet? It is essential to measure when choosing a dining room table. Consider your space as well as how many chairs you need for your family members as well as entertaining purposes. Note that many tables include a "leaf" which can be removed when the extra length is not needed. How much room should you leave for your chairs? We suggest at least 36 inches between the edge of the table and the wall or other furniture.
While often overlooked, the kitchen tends to be a popular gathering spot. What kind of furniture can make this space useful and inviting? A cozy corner booth can be great for mealtimes as well as an ideal spot for kids to do homework while parents cook dinner.
Office
Some homes have an office or an extra bedroom that can be used as a workspace. The main piece of furniture needed here is a desk, and perhaps a bookshelf or filing cabinet. Unless you regularly work from home, this is a room that can be at the bottom of the priority list.
Decorating your home and selecting furniture can be a fun part of homeownership. Following these tips can help you stay focused on what's important without breaking your budget!