It's possible that you've found yourself in one of our Twin Cities Habitat ReStore locations, searching for a specific item, wondering about store hours, or thinking about volunteer opportunities. With the help from high school students at Edison Entrepreneurship Academy and Avalon High School, ReStores will soon include a help desk kiosk to answer your questions.
The project began back in February when two groups of students from Edison Entrepreneurship Academy (EEA) and Avalon High School were challenged by the ReStore Director and project sponsor, Pete O'Keefe, to examine how to incorporate a help kiosk at the ReStores.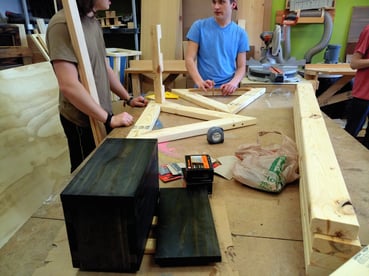 The students were advised through Accenture, which is a global professional services company that provides strategy, consulting, digital, technology, and operations service to many worldwide clients each year. The Edison students researched what to include on the kiosk and where to place it in the ReStore. The Avalon students were in charge of creating the design of the kiosk.
"The thing about retail is that it's a laboratory" said O'Keefe, who has completed several projects with high school and undergrad students, "The synergy of two schools coming together and making a product happen is exciting and ReStore had a need."
Habitat ReStores are donation centers that sell new and gently used furniture, appliance, home accessories, and more at a fraction of the retail price, and then the money goes to local Habitat for Humanity Organizations. "The environmental theme really resonates with this age group. Recycling is something that has been drilled into them their entire lives," said O'Keefe.
Both schools visited the New Brighton store for their kick-off meeting. They spent time brainstorming ideas of what the store needed and how the kiosk could help. "Getting them to visit our store was really fun. All of a sudden the light bulbs go off," said O'Keefe.
Carrie Bakken, Avalon teacher and advisor of the project, says "All of the Avalon students involved in this project are interested in sustainability and construction. The ReStore project was an incredible opportunity for our students to solve real-world problems for clients, collaborate with students from another school, and design and build a model information kiosk that meets the clients need."
This project was designed to give the students an idea of working with clients in the business sphere, but for some, this project opened their eyes to Twin Cities Habitat for Humanity.
Shirley Poelstra, teacher from Edison High School, noticed the impact on her students. "I think through this project the students became aware of who Habitat for Humanity really is. They also learned how important their mission is and the impact it is having on the community."
The students plan to finish the project and get the help kiosks in our ReStore locations very soon, as they are wrapping up their school year and preparing for summer. We are so excited to see how the kiosks will help our ReStore customers.
Thank you, students! Have a great summer!