Twin Cities Habitat for Humanity Restore Volunteers
Twin Cities ReStore can't work without help from the community. These volunteers help us to fulfill our mission and make ReStore a great place to work and shop.
Bob K - ReStore Volunteer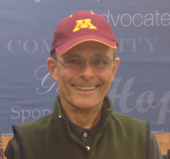 Bob Kessler first became involved with Habitat for Humanity by organizing build teams among colleagues who worked for the city of St. Paul. When it came time to retire, Bob took the advice of people at his church, St. Cecilia's, who convinced him that Habitat for Humanity was a great fit for him. He is now a regular volunteer at ReStore, where he is responsible for a variety of marketing tasks and is the go-to-guy for procuring floor tiles. When asked what makes him stay at ReStore, Bob doesn't hesitate. "The staff and volunteers are absolutely wonderful." Bob has enjoyed his time at ReStore and hopes to continue his work there for many years to come.
Mary - ReStore Volunteer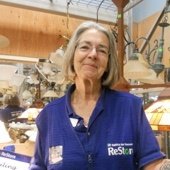 "I may have retired," said ReStore volunteer Mary, "but I knew I wasn't ready to just sit." After a second career as a Senior Admin at TCF Bank, and a first career as the owner of her own daycare business, Mary was used to hard work. She headed to Wisconsin to help her son out. She stopped into the local ReStore to find some items for her apartment, but discovered a place that was fun to work. When she returned to Minnesota she volunteered here. "I constantly spout all things ReStore to everyone I meet," Mary says. "I love the purpose and I love the people." For her, ReStore is a way to stay active, and to give back to the community.
Dave M - Volunteer Route Helper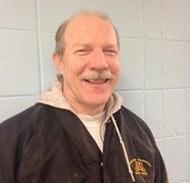 Dave Minke's family has a long tradition of giving back to others. There has been at least one pastor in every generation of Minkes since his family came to the United States back in 1849. Dave says volunteering with Habitat has been a great way to give back and stay busy during his retirement. In addition to helping out at ReStore, Dave has worked on several Twin Cities Habitat projects with his church. Volunteering comes naturally for Dave. He simply enjoys traveling around the metro helping the ReStore driver pick up donations.



Warren P - Restore Volunteer
Warren got involved with Habitat by working on General Mills sponsored homes. After retirement, he continued to volunteer on the General Mills summer builds, plus with the GM alumni (General Mills) group that builds twice a month September through May. When he learned of ReStore, he thought it would be another way to work with a great organization and help people. He likes the variety of tasks at ReStore, including building and organizing display stands. He says the ReStore staff and volunteers are fun and great to work with. Warren volunteers to help others and to keep busy in retirement. He also volunteers weekly at the University of Minnesota Landscape Arboretum and at The Raptor Center at the university.
Donald O - ReStore Volunteer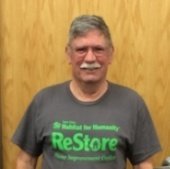 Donald was looking around the Internet for a good volunteer opportunity when he found Twin Cities Habitat. He wasn't interested in building and repairing homes, but ReStore looked like a place where he could spend his time and make a difference. He filled out the paperwork and he says the rest is history. He volunteers as a cashier and helps customers each Wednesday during his 4-hour shift. He says he likes that it gets him out of the house and that he's able to help people with his time.



Sandy - ReStore Volunteer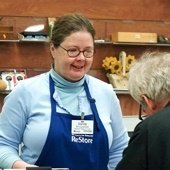 During a career as a nurse in newborn ICU and a nurse educator, Sandy worked with people from all walks of life. After retiring she missed the one-to-one connections. A few months after retirement, she read a blurb in her church bulletin calling for volunteers on a Habitat build. She couldn't make the build, but as she looked closer at Habitat, she discovered ReStore. She realized she would enjoy volunteering at ReStore. "I love interacting with people," she says. "My favorite is working on the register because people just line up to interact with me. I love all the different customers, and I really love all the people who work at ReStore. They've made my time here an 'exquisite' experience."